Source:
CNN
| November 26, 2019 | Christina Zdanowicz and Julia Jones
(CNN) – Using robots in dangerous police situations is common these days, but one police department has been quietly testing a special robot that looks like a dog.
Massachusetts State Police became the first law enforcement agency to use a robot dog named Spot. Boston Dynamics launched the four-legged robot in September, and it worked with state police to see what happened when you take Spot out of the lab and put him in the real world.
One robot joined the police department's bomb squad for 90 days to see how Spot would function in a situation where there are bombs and hazardous materials or dangerous suspects, according to Massachusetts State Police. The idea is that Spot would approach the object and inspect it so that humans don't have to be endangered.
The problem for some people is that no one knew much about it and there aren't any regulations around using the technology. That is, not until the American Civil Liberties Union of Massachusetts found out about it.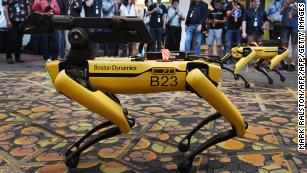 Boston Dynamics let the state police test out the robotic dog from August 7 to November 5, according to the lease agreement obtained by the Massachusetts branch of the ACLU in a records request. The ACLU received the documents and made them public this week.
"We need to have transparency and safeguards to ensure that law keeps pace with technology and technological innovations. This kind of technology shouldn't be deployed in secret," said Carol Rose, executive director of the American Civil Liberties Union of Massachusetts.
"We need to have a robust public debate so we can set the protections and the boundaries where we can ensure that technology is used to enhance liberty and not to take it away," she said.
………
You must be logged in to reply to this topic.