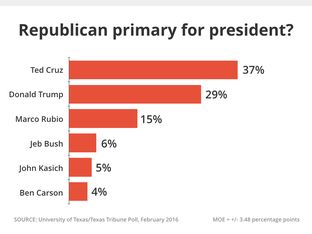 With a week remaining before the Texas Republican primary, U.S. Sen. Ted Cruz has an 8-percentage-point lead over Donald Trump, according to the latest University of Texas/Texas Tribune Poll.
Cruz had 37 percent of the vote in the poll. Trump, the businessman and TV personality who finished first in two of the three states that have already voted, had the support of 29 percent, followed by U.S. Sen. Marco Rubio at 15 percent.
….
What looked like a three-candidate race coming out of South Carolina looks more like a two-person race in Texas, with Cruz and Trump almost certainly in position to split the state's 155 Republican delegates. Among likely Republican primary voters who identify with the Tea Party, Cruz leads Trump 56 percent to 26 percent in the UT/TT Poll. Among voters who identify as Republicans when given the choice to bolt for the Tea Party, the candidates were relatively even: Cruz had 32 percent to Trump's 30 percent. Rubio had 18 percent of those voters, and 8 percent of those who identify with the Tea Party.
….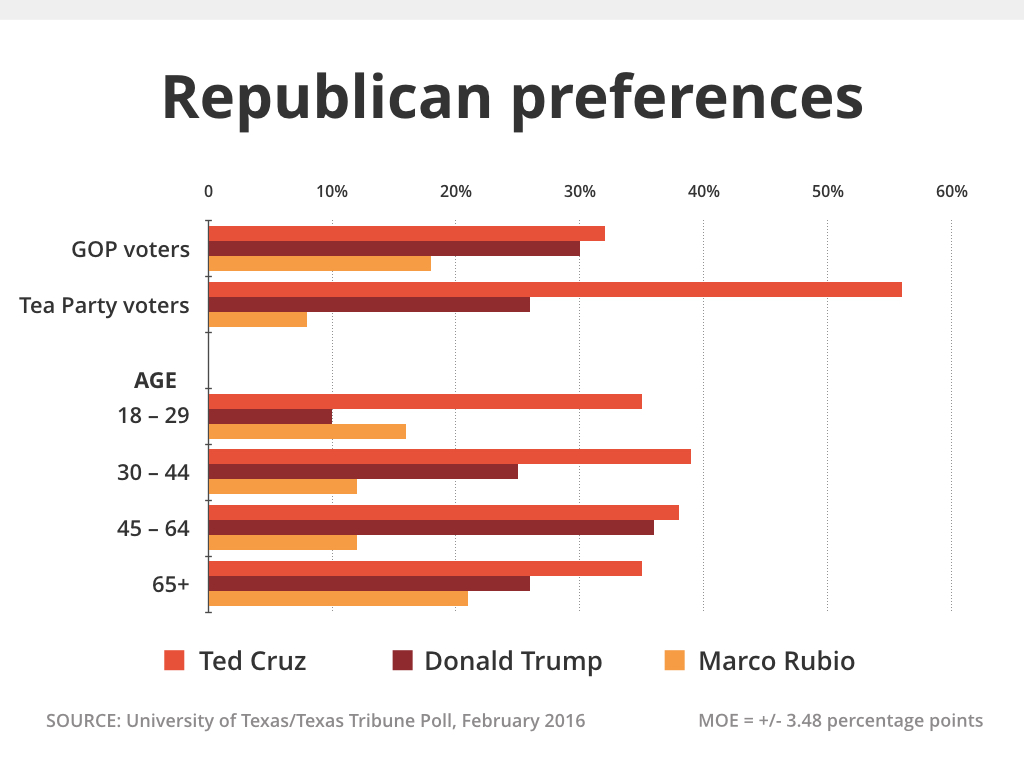 Cruz led in all age groups, notably among voters ages 18 to 29 and voters ages 30 to 44. Trump pulled close among 45- to 64-year-olds, and Cruz had a 9-percentage-point lead among voters over 65. Rubio had 21 percent of that oldest group — his best showing in the age brackets.
The Cruz and Trump voters were more certain of their choices than the voters attracted to other candidates. More than two-thirds of their voters said they were "extremely certain" about their choice of candidates, compared with 41 percent for Rubio, 29 percent for Carson, 27 percent for Kasich and 22 percent for Bush.
….
Viewing 1 post (of 1 total)
Viewing 1 post (of 1 total)
You must be logged in to reply to this topic.